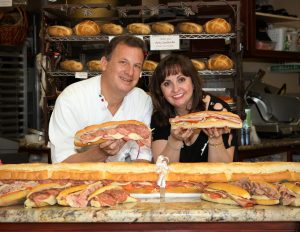 John and Victoria Magnanimo brought their family tradition to the Santa Clarita Valley in the fall of 2008 with the opening of Italia Panetteria & Deli.
Originally they were a part of a 38 year old tradition–a family owned bakery and deli in Granada Hills where they met and fell in love. They have brought all of the family recipes with them and even added a few new ones.
John's parents, Filippo and Maria Magnanimo, emigrated from Bari, Italy and in 1971, along with his Uncle Benny and Aunt Gina DeGiosa, and opened the original Italia Bakery & Deli in Granada Hills. John was just 4 years old. Their special bread recipe, given to them by Uncle Joe and Aunt Rose Vinci, proved to be a great success.
After many years of hard work to establish a successful business, they opened another location in Agoura Hills–Italia Deli and Bakery. The DeGiosa family has enjoyed serving their community since 1981.
When John's parents retired, he and his sister took over the family business serving the Granada Hills community as partners. It has been John's pleasure to carry on the traditions he learned from his parents using only the freshest ingredients, homemade sauces and fresh baked bread daily (Valley Magazine's choice for Best Bread).
Victoria's parents, Salvatore and Claudia Cefalu, moved to Granada Hills from Chicago when she was 3 years old. Her father, born in Sicily, Italy, immediately fell in love with the bread at Italia. It reminded him of his childhood in Sicily. Salvatore brought his family to the deli every Saturday to stock up on cold cuts, bread and imported Italian specialties. The aroma of the fresh baked bread filling the car on ride home is a memory of her father that Victoria will always cherish. They were never able to make it home without breaking open the bag for a piece of that warm fresh bread.
At age 15, Victoria started working at the deli where she met John. He was the shy 20 year old young man who worked in the back baking bread and cooking up the special recipes his father taught him. After John and Victoria's first date, she was hooked! Victoria worked with John and his family in the deli all through high school. Even after leaving the deli for college and work in the corporate world, and later as a preschool teacher's assistant, she has continued to work in the deli every Christmas season.
John and Victoria were married and moved to Santa Clarita. They have been blessed with their son Philip Salvatore (named after his Nonnos).
John and Victoria are honored to be able to serve the community they've been a part of since 1994 and invite you to share the traditions of their family at Italia Panetteria & Deli in Valencia.
We welcome you into our family and see you soon at Italia Panetteria & Deli.